Located adjacent to Kunluo National Road, 8 kilometers from Jinghong City, Xishuangbanna Primitive Forest Park lies in a valley with 4000 acres of tropical rainforest. With its 98% covered by forests, the park features primitive forests, wildlife, and exotic culture, being one of the largest eco-tourism attractions in Xishuangbanna.
The park considers nature, ecology, environment, recreation and health as the main elements of the modern living concept, which is presented through the ethnic new-year culture season of winter, the peafowl culture season of spring, the rainforest culture season of summer and the ethnic costumes season of fall. Built according to four-star standard, the Peafowl Villa is a fine tropical resort with the eco-glamour of the tropical rainforest in Xishuangbanna.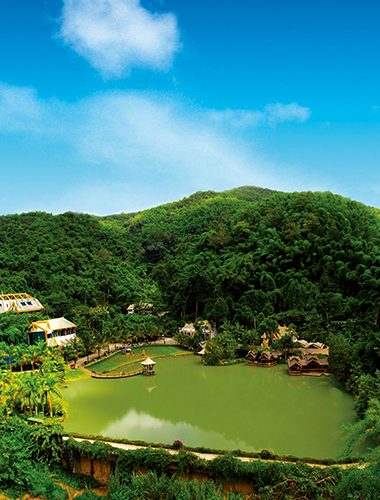 Peafowl Villa has 51 guest rooms, and a unique floating restaurant that can accommodate 200 people dining at the same time, providing a wide range of local ethnic specialties and the unique Dai Long Table Feast. The villa also has two middle-sized multi-function conference rooms, equipped with professional control system and audio system, which provides a variety of multimedia services.
Peafowl Flying Southeast: As one of the biggest peafowl breeding bases in Southeast Asia, Xishuangbanna Primitive Forest Park is home to more than 3,000 peafowls.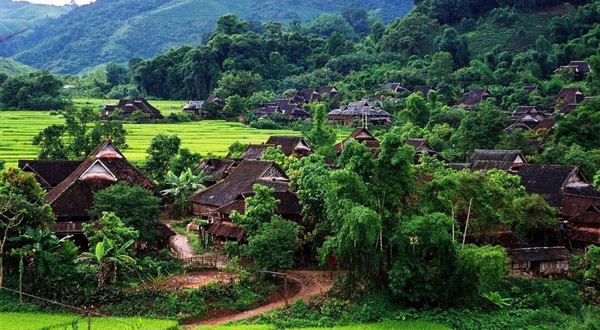 The peafowl is the mascot of Xishuangbanna, and you may even take photographs with them so as to bring auspiciousness home. The beautiful love story of the Peafowl Princess and Zhao Shu Tun, best enjoyed by the poetic Golden Lake in Xishuangbanna Primitive Forest Park, will take you into the mysterious Xishuangbanna.
Man Double-dragon White Pagoda: The pagoda is a typical Theravada Buddhism (or Hinayana) architecture. Influenced by Dai buildings, it has a unique charm in its building style compared with pagodas of interior China. The pagoda is 18 meters high, and was surrounded by eight small Buddha statues including fortune, blessing, peace, fecundity, marriage, career, longevity, and auspiciousness. On the spires of the main pagoda and the surrounding 8 small towers hang many copper bells, which will jingle when the mountain wind blows. It is believed in the legends that the sound is the "Sanskrit Tune" from heaven, which can bring auspiciousness and happiness to the world. However, if you want to take a close encounter with the Double-dragon, you must pass the trial of the 286 stairs that test your piety.